USBC 2015 YEAR IN REVIEW:
In January 2015, USBC CEDC became one of the newest additions to US Department of Transportation's national network of 13 supportive service centers. 

USBC Community Economic Development Corporation received a grant award from the US Department of Transportation to serve as the

 

Capital Region Small Business Transportation Resource Center. As the Capital Region resource, we help support small businesses in the transportation industry by providing technical assistance, loan packaging, bonding education and more. 

 

Also, we placed two young women students into paid summer internships with select transportation agencies in the DC metropolitan area.
Also in January 2015, USBC obtained partnerships with several diverse national chambers to participate in the Chamber Training Institute- a program administered by the US Hispanic Chamber of Commerce and sponsored exclusively by Wells Fargo, designed to help diverse chamber leaders share best practices and learn how to best manage their chamber of commerce. 
In February we kicked-off our Annual Solutions Series with a city-to-city tour visiting: Cincinnati, Memphis, and Washington, DC. In each city, USBC partnered with local chamber members to produce an impactful event, filled with a wealth of information from USBC's national partners, and local resources. Key partners included; Google, Wells Fargo, IBM, American Express and more.
In April we initiated The Black Male Entrepreneurship Institute- a pilot entrepreneurship training program for a cohort of 20 young black men. And in December we leveraged our collective power to invest in opening bank account(s) at Industrial Bank-one of the nation's most prestigious Black-owned banks.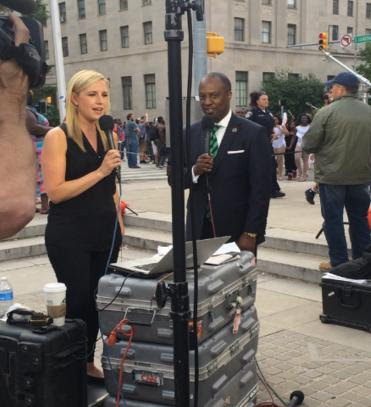 In May following the outcry of violence from Ferguson and Baltimore, USBC President Ron Busby was a guest on CNN to provide an economic perspective on the aftermath of such heinous acts in our communities.
In June we hosted a fundraiser for the USBC's Microloan Fund in Chicago. The fundraiser was a memorable occasion hosted at Ebony Magazine Headquarters, bringing together some of Chicago's largest business owners and influential leaders. Ebony Magazine CEO, Desiree Rogers, welcomed USBC and our partners to her space to show her support of growing Black businesses nationwide.  USBC members came from Cincinnati, and even as far as Texas to attend the fundraiser.  We're thankful to our event co-chairs Mr. John Rogers, CEO, Ariel Investments and Mr. Darrell Jackson, Former President, Seaway Bank.

  
We hosted our inaugural Policy Breakfast in September during the Congressional Black Caucus' Annual Legislative Conference. To further USBC's advocacy efforts, the Policy Breakfast included two expert panels on the topics of "Climate Change and Black Business," and the "2016 Presidential Campaign." Later in the year, in November we hosted a 3-city nationwide "Climate Conversation" in: Baltimore, MD, St. Louis, MO, and Austin, TX; all geared towards showcasing the business opportunities that exist within the clean energy industry, as well as what we can expect from the President's Clean Power Plan.
From 

July 28

- 31 USBC hosted our 5th Annual School of Chamber & Business Management  in Washington, DC. Our annual conference brought in chamber leaders and business owners from around the country for four solid days of training and sharing of best practices. 13 of our member chambers received microgrants from Wells Fargo, with grant sizes ranging from $2,500 to $5,000. We awarded Radio One founder Cathy Hughes with our Lifetime Achievement Award. We also featured keynote addresses from Dr. Claud Anderson, CEO, Powernomics, and Ms. Rosalind Brewer, CEO, Sam's Club. Additionally conference attendees visited the White House and Capitol Hill for "Advocacy Day" and finally closed the conference with an Awards Gala where we announced Christal Watson, President of the Kansas City Black Chamber as our chamber of the year and issued a $5,000 check to Brittaney Wade- a young college business student.
By December 2015 we increased our Chamber members. We welcomed New Chambers: Heartland Black Chamber of Commerce, Long Island African American Chamber of Commerce, Gulf Coast African American Chamber of Commerce, and The President's Council - Cleveland.
And lastly, USBC has expanded its staff and its office space, we're now located at 1050 17th Street NW, Suite 810 in Washington, DC. Welcome new staff members:

Krystal

Glass- Communications Director, Jermaine Simmons- Membership Manager, Leslie Jean- SBTRC Project Coordinator.
 USBC 2016 LOOK AHEAD:
May 17th

-

20th 2016

, The USBC School of Chamber & Business Management: is the premiere educational summit, and the ONLY conference whose focus is solely on providing access to opportunities to grow Black Chambers

and

Black businesses nationwide. Click  here for more details.
USBC Entrepreneur Training Program: The University of Phoenix© and the U.S. Black Chambers, Inc. have joined forces to provide an exclusive opportunity to USBC Black Chamber of Commerce members. The USBC Entrepreneur Training Program combines the best of both worlds - online training and in-person seminars led by subject matter experts - to prepare a feasibility plan to help you take your business to the next level. This 15-week course is worth the investment - put your business on course to compete for contracts, improve opportunities for access to capital and reach the goals you dreamed about when you first stepped out to create ownership and build wealth. Click here for more details.